#MaryKom, the biopic's song release function was a long drawn affair much like Producer Sanjay Leela Bhansali's films
#MaryKom, the bio-pic's song release function was a long drawn affair much like Producer Sanjay Leela Bhansali's films!- Johnson Thomas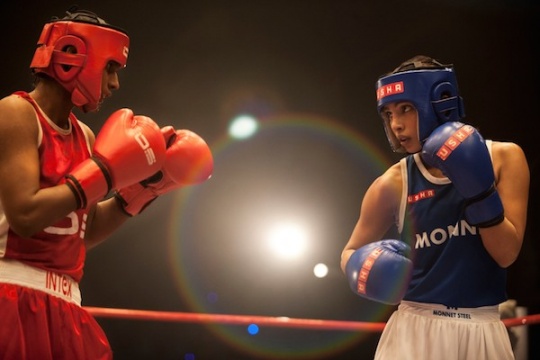 Producer Sanjay Leela Bhansali, Omung Kumar, Priyanka Chopra , 5 time World Champion and recent Olympic medalist Mary Kom herself ( who lived the story in the picture)with husband in tow graced the occasion with their valuable presence. And we got to know how valuable it was by the two hour delay in their arrival. That they had another event to attend is not an excuse. Well, filmstars and their keepers don't learn from their mistakes. The praising, smiling and preening went on for a long while with an added event of a speed artist creating a upside down image of the film poster on canvas in well short of 15 minutes flat. A freedom dance, a live singing performance from Priyanka herselg and after a bit of cajoling from Priyanka, Mary Kom singing 'aaj main upar, aasman neeche' in a perfect tonal rendition. Well it was decidedly an event to showcase the many faceted talents of the two Shilohs on show and they both excelled.
Earlier in the day, at another suburban venue, Mary Kom and her film face, Priyanka Chopra inaugurated the Usha International school of tailoring for the economically backward women in society.
Mary Kom was literally overawed by the heaps of praise coming her way while Priyanka, who hosted the show, prattled on in jokey fervor about how she was chosen for the film. Mary Kom claimed she did not know who from Bollywood could play her in the film so her only condition was that the lady be fit and muscled, enough, to be convincing. According to Mary Kom, Priyanka Chopra fit the bill. Both women were in tears, supposedly, after watching the film. When Mary Kom's husband came on stage he was persuaded to declare his love for Mary- Mary had earlier claimed that he had never said 'I love You' to her even though they had a love marriage. Mary Kom was presented with the painting of the film poster and a shawl and gift hamper from Reliance digital while Priyanka Chopra too received a gift hamper from Reliance digital and Mary Kom presented her with a pair of boxing gloves which she had used on her way to winning one of her world championship medals.
After the music video was played, "Ziddi Dil' song released and the dedication ceremony was done, it became the turn of some meritorious women achievers to be appreciated and awarded. By the time the entire program got done at around 11:30pm, the press and photographers were restive and raring to rush back to their homes. Most forwent the cocktails and rushed to the buffet to grab a much needed bite. The food at ITC Grand Maratha, Sahar was delicious so in that at least, no one went home disappointed!
P.S. Co-producer Ajit Andhare was also present on the occasion, Priyanka Chopra performed live on her song Chaoro (lori)! This track is Priyanka's debut as a singer in Bollywood..
#MaryKom #PriyankaChopra #SanjayLeelaBhansali #RaindropMedia #OmungKumar